As part of our Aspiring Talent Series on eBOSS Canada, we recently spoke with John Krissilas and Lena Burmenko  – Toronto-based actors, filmmakers, and the creative team behind the indie web series MARKED.
.
As a child, did you want to be an actor, or did it fall into place through other activities?
Lena: I started taking music and painting lessons as early as 3 years old, which was the initial gateway for me into acting. It was mostly just for fun because growing up in Ukraine acting didn't seem like a viable career choice that I could pursue there. That changed when I immigrated to Canada. I remember when my parents said that we were moving to Canada my response was "Yay! We're moving closer to Hollywood!".
John: I booked my first acting gig as Prince Charming in my pre-school's production of Cinderella. Does that count? In all seriousness, acting is fairly new for me compared to Lena. I was actually scared of the spotlight growing up and I was terrified to play the Prince!
Who inspired you to follow your dream to pursue acting?
Lena: I would have to say my family. My older sister Vira is a professional violin performer. She's been into the arts for as long as I can remember which is what got me interested in the arts as well in the first place. Our parents have always been very supportive of both of us.
John: Lena! It's cheesy, yes. But being around someone who lives and breathes acting and already has so much talent inspires me to want to do the same.
What challenges have you faced in the entertainment industry? What has been your most rewarding experience?
John & Lena: For both of us, it's been a challenge being considered for the kind of roles that we ultimately want to play. For example, a recurring role in a TV series. Acting is a long journey and you have to work your way up, but it can be frustrating.
So, while working towards that, we created our own web series for YouTube called MARKED. We wrote the story together, cast ourselves and our actor friends in the lead roles, and used our skills as filmmakers to produce it. It's given us a taste of what it would be like to play a recurring series role, and that has been incredibly rewarding!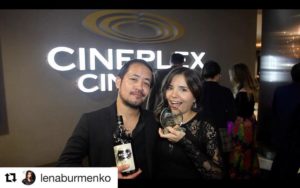 What is your favourite type of character to play?
John: Agent Mulder! I love the X-Files, so we wrote my character in MARKED, Agent Stevens, to be our version of Mulder. It was a blast!
Lena: I'm a big fan of the sci-fi and fantasy genre so I would love to play a character in a series like Supernatural or Doctor Who, or something magic oriented like Harry Potter. I love playing quirky and fun characters that also have some intensity to them.
What market do you currently work in? Are there other areas you would like to work?
John & Lena: We're both Toronto-based but we would love to explore working in other places like Vancouver and LA in the future. Each city has unique projects that are filmed and casted there. For example, Supernatural is filmed in Vancouver (hint, from Lena!).
What advice would you give to someone new trying to make it in the acting industry?
John & Lena: Don't just sit around and wait. Create your own work. Don't be afraid to learn new skills and try new things. Not a writer? Try writing. You never know, you might surprise yourself. Tried working with cameras but technology isn't your friend? Collaborate with others who are great with equipment and computers. This industry is built on teamwork. It's always easier to come up with excuses of why you shouldn't do something rather than just doing it. You can take the first step towards your dream role by writing it yourself!
John and Lena co-created the sci-fi mystery web series MARKED, which they wrote, filmed, acted in, and edited themselves.  They produced the show entirely themselves without budget, sponsors or crowdfunding. They believe in using what they have and just creating with it rather than waiting to make it with a bigger budget or a larger crew. John and Lena recently released the 4th episode on YouTube, just in time for MARKED to become an Official Selection at the International Online Web Fest just a few days following – the only Canadian series selected by the festival.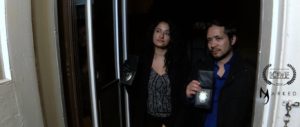 For more info on John & Lena's web series MARKED, visit:  www.MarkedWebSeries.com
Follow John and Lena:
John:  https://www.johnkrissilas.actor/
Lena:  https://www.lenaburmenko.com/
Facebook:
John:  https://www.facebook.com/johnkrissilas
Lena:  https://www.facebook.com/lena.b.31
Instagram:
John:  https://www.instagram.com/johnkrissilas/
Lena:  https://www.instagram.com/lenaburmenko/
Lena is represented by the Ritter Talent Agency 
CLICK HERE TO VIEW ALL INTERVIEWS IN OUR ASPIRING TALENT SERIES
---
If you are an aspiring talent and would like to be featured in our Aspiring Talent Series
Contact Darlene via email at [email protected]
Open to all (e.g. Actors, Models, Singers, Dancers, Producers, Directors, etc.)