Spencer Barbosa is a very talented actress who has just finished filming the YouTube exclusive series "We are Savvy". She is represented by Hero Artists Agency in Toronto.
We had a chance to ask her some questions and she answered them beautifully.
As a child, did you want to be an actor, or did it fall into place through other activities?
I've always known I wanted to be an actor. Since the age of 6 (when I started musical theatre) acting has played a major role in my life. I don't even know who I'd be without it.
Who inspired you to follow your dream to pursue acting?
My family constantly pushes me to be the best spencer I can be. When I was younger my dad told me "when it starts to get hard, you have to push harder. When you stop pushing yourself you stop improving yourself." That has ALWAYS stuck in my mind and been what pushes me.
What challenges have you faced in the entertainment industry? What has been your most rewarding experience?
I haven't really faced very many challenges in the industry but I guess my largest challenge is rejection. There are so many actors in the industry all trying out for the same part and since there are so many actors and few roles, very often you don't get cast for everything you try out for. But you gotta keep your head up because you miss every shot you don't take.
What is your favorite type of character to play?
I love playing bratty characters. I don't know why but it's so much fun. When I was in Willy Wonka (the musical) I played Veruca Salt. She is very snobby and spoiled and so much fun to play.
What market do you currently work in? Are there other areas you would like to work?
I am currently in acting but I would love to break into the music industry.
What advice would you give to someone new trying to make it in the acting industry?
Definitely to surround yourself with people who want to see you succeed and want to help you succeed. There will always be people in the world who try to bring you down and don't want you to succeed but you cannot listen to them. Push yourself, and make sure your happiness comes first.
What fuels your passion? What motivates you to help others be successful in their acting also?
My passion is fuelled by the fact that I would love to be a role model for younger girls. It is important to believe in yourself and be willing to try new things.
What is something about you that most people would never guess?
Something that most people don't know about me is the sport I play. I currently row, and rowing is literally the most fun sport ever.
If you were to do it all over again, would you do things exactly the same? Do you have any regrets? Successes that make you proud?
Absolutely not .. I believe every experience, good or bad is a way to learn more about myself. I do wish that I did start acting earlier, just to have gained more experiences in acting. I am super proud of We Are Savvy, we all really put our heart and souls into Savvy, it is a super show for young girls everywhere.
What has been your favorite role or project? Why?
My fave role by far is being on We Are Savvy, its been such an exciting adventure and I love every moment of it.
Congrats on the success of Savvy! What role did you play? What did you enjoy?
Thank you so much. Being on We Are Savvy has been the adventure of a lifetime! I actually didn't play a character, I play myself on the show! Being on Savvy is amazing, I've made so many amazing friendships, met so many people and developed so much as a person. The cast and the crew on savvy are amazing!!!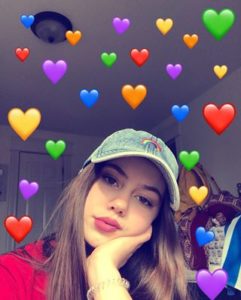 We really enjoyed getting to know Spencer and wish her every success in her acting career. Spencer truly is an inspiration to girls everywhere and I am excited to see where her career and talent will take her!
.
Follow Spencer on social media at the links below:
Instagram: @spencer.barbosa
Snapchat: @spencer.barbosa
Youtube: @Spencer Barbosa
Twitter: @spencerbarbosa
Written By:  Darlene Morrison
---
If you are an aspiring talent and would like to be featured in our Aspiring Talent Series
Contact Darlene via email at [email protected]
Open to all (e.g. Actors, Models, Singers, Dancers, Producers, Directors, etc.)