As part of the eBoss Canada aspiring talent series, we caught up with actor Tarick Glancy from Toronto, Canada. Check out the interview below:
AS A CHILD, DID YOU WANT TO BE AN ACTOR, OR DID IT FALL INTO PLACE THROUGH OTHER ACTIVITIES?
To be honest, I never thought about being an actor until about 3 years ago. I was training people to work the sound board at the radio station VIBE 105 at the time, and after a session one of the attendees came up to me and said, "Are you an actor?". I said, "No" to which she replied, "Yes you are! And I want you to be in my musical!!!"…and that's how it really all started. I said "yes" and from there I caught the acting bug. After that production (Dario Et La Diablesse), a remount of it at the Fringe and then booking a role in Sister Act, I thought, "I'm good at this…damn good at this". I then promptly quit my job and headed into the industry full stop, no looking back.
WHO INSPIRED YOU TO FOLLOW YOUR DREAM TO PURSUE ACTING?
The majority of my inspiration comes from myself and my ambition to make it (not to sound like I'm a stereotypical self-absorbed actor…at least not totally :p). I just believe that I can do it, I do the work and apply myself to the set of tasks in front of me with a disciplined conscientious attitude. I think that the conditions are perfect for me to thrive and excel in this industry, in both Film/Television & Theatre. When I'm looking to people as examples that inspire me I often look to people outside of my industry who are entrepreneurial and successful. My closest friend is one of those people. He runs a successful contracting business (far from acting I know!) but the principles for success are the same. I just apply that self-determined attitude to acting. I work on my craft and business acumen with gumption – gumption…what a great word eh?
WHAT CHALLENGES HAVE YOU FACED IN THE ENTERTAINMENT INDUSTRY?  WHAT HAS BEEN YOUR MOST REWARDING EXPERIENCE?
As I think any artist can attest to – surviving. Just entering the industry and to then keep on booking gigs is challenging to uphold. It can make you doubt your abilities and shake your confidence. I find that through consistency in your performances, looking for work everyday, knocking on doors and not being afraid to approach people you can steadily make your way through an industry that seems daunting at times. But I also challenge myself. I'd say that my most rewarding experience was the past year in which I made a promise to myself that I would sustain myself simply on acting alone. That was my second year of acting and through booking a string of commercials, theatre shows, feature films and web series – I did it.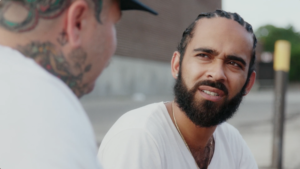 WHAT IS YOUR FAVORITE TYPE OF CHARACTER TO PLAY?
I'd say it's split between comedic characters and the anti-hero. Comedy because I like to make people laugh and it is also a real intellectual art form. You have to be very witty, insightful and curious about the world and society to be a comedian, which is often why they make great commentators. Very much related to comedy, I also dig playing the anti-hero. I mean, don't take it the wrong way…I wouldn't say I'm inherently evil (at least I don't think so, and I'm sure my ex's would agree – but don't ask them :p) but there is something satiating about exploring your dark side or your "shadow" as psychologist Carl Jung put it. In fact Jung thought it integral that the shadow be integrated properly into one's personality. I like playing the anti-hero because it allows me to do that exploration, albeit grounded in fantasy. One of my favorite character's I've played so far was "Lucky" in the upcoming indie film "Forever Gone". He was a street smart, hustler-type reincarnation of the devil. In the story he comes in as a figure of the main character's imagination and slyly forces him to commit a murder-suicide. He was smart (in mythology the devil is often associated with the intellect), charismatic and playing him was really exhilarating….again, please don't judge me! Haha.
WHAT MARKET DO YOU CURRENTLY WORK IN?  ARE THERE OTHER AREAS YOU WOULD LIKE TO WORK IN?
Currently I am based out of Toronto, though I have also worked in London and Montreal and am slated to do a feature film this winter in the Caribbean. It would be a pleasure to work in Vancouver which I will be in 2019, but my real sights are set on the US. I want to break into the US market as I feel I will do very well there. New York and Atlanta are top of the list, and also LA of course. But I am open to wherever this career takes me as I could never let a great opportunity pass me no matter where it is!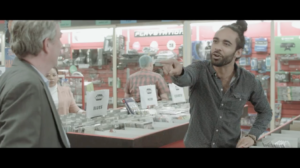 WHAT ADVICE WOULD YOU GIVE TO SOMEONE NEW TO THE ACTING INDUSTRY?
As you might hear in the Caribbean, "Mi look like a TV? Doh watch meh, watch unuself!" – meaning: don't watch other people, watch yourself. I think this is key. When you compare yourself to others and their progress you can be prone to losing sight of your own goals. Remain focused and persistent. Eventually you'll get the breaks you deserve. Just ask Steven Mann about how "persistent" I was before I booked my first national commercial with him (haha – shout out to Mann Casting!).
WHAT FUELS YOUR PASSION?
Entertainment and the spirit of storytelling. Great stories are so integral to how we conceptualize the world around us and help ground us in the actions we should take across time. They communicate ideas and wisdom that are hard to articulate in just words. You know that feeling you get at the end of a great movie? Or a great song? I want to use my talents to help foster that in audiences. That's why I keep doing what I do. Plus the pay is good, haha.
WHAT IS SOMETHING ABOUT YOU THAT MOST PEOPLE WOULD NEVER GUESS?
I have a slightly vulgar nickname that was innocently given to me by my Grandma from birth. They call me "Puddy". I am not going to tell you what it means here – look it up on urban dictionary and then laugh till' your belly bust. When I looked it up personally I called her to tell her what it meant and she just laughed and then berated me for not calling her regularly.
IF YOU WERE TO DO IT ALL OVER AGAIN, WOULD YOU DO THINGS EXACTLY THE SAME?  DO YOU HAVE ANY REGRETS?  SUCCESSES THAT MAKE YOU PROUD?
I wish I would have been exposed to acting earlier in my life, but as my Grandma likes to say, "Nothing before it's time". I don't think I would have been as good of an actor if I hadn't gone through the trails of life and taken the time to develop myself, especially mentally. So on that note I have no regrets. I am proud of myself to have taken the leap of faith to seriously pursue this line of work and become the full-time actor that I am today.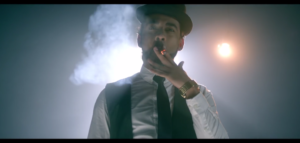 WHO ARE YOU REPRESENTED BY?
I am currently represented by Sheila Lopes of Choice Talent Agency.
WHERE HAVE YOU TRAINED?
The School of Life. It hasn't been the easiest road at times, and thus I translate a lot of my personal experiences into my acting. Just like basing a story on your experiences often makes the best writing, I think that experience used properly fuels your acting as well. I also do a lot of research on psychology to be able to see things from different people's perspectives and absorb their motives. This informs my acting because if you can truly understand and feel how other people justify their way of thinking and behavior, you can better embody that on stage/on screen. Formally though I've trained with Ava Cummings, Jonathan Higgins of Actor's Imagination Studio, Ausar Stewart of York University and am currently in the Actor's Core 2018 program headed by Neil Schell. The rest of my training has been informal from booking roles and learning as I go, which has its own merits. Through experience and the accompanying pressures of that path, you get real world experience immediately, become creative and resourceful in your artistic process and learn how to work with different actors, directors and people. When it's all on the line, you have no choice but to rise to the occasion.
FOLLOW ON SOCIAL MEDIA & WEBSITE:
Facebook: https://facebook.com/tarick.glancy
Twitter: https://www.twitter.com/thisbepuddy
Instagram: https://www.instagram.com/thisbepuddy
Website: : https://www.tarickglancy.com/
IMDB: https://www.imdb.com/name/nm8401430/