I remember June 25, 2004, like it was yesterday. After all, it was the day The Notebook came out in theatres in North America and turned my heart of stone into a big bowl of cinnamon oatmeal. Just say you're a bird, Noah!!
The movie's lead actors Ryan Gosling and Rachel McAdams started a real-life relationship after filming the movie, dating from 2004 to 2007 before breaking up. You know when Noah (Gosling in the best lovelorn breakup beard of all time) says "It's not over, it still isn't over!" to Allie (McAdams in perhaps her most charming role ever) and they make out on that rainy dock like their plane is going down? Pretty sure that's the moment the on-screen lovers fell for each other IRL—and how most of us *still* feel about their relationship, right?!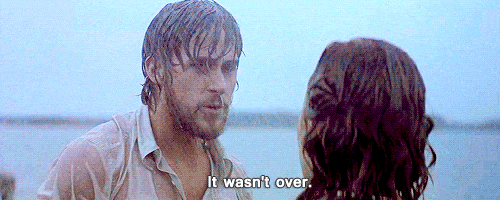 I respect Gosling and McAdams, I really do, but I'd just like to know when they plan on getting back together, wouldn't you? Because their passion was so palpable, I'm quite convinced they epically threw off the course of history when they broke up. (Eva Mendes, I'm quite convinced you're a really nice person and lord knows you are an unnaturally stunning human, but we can't keep fighting destiny.)
While we wait for the great Canadian Ryan-and-Rachel reunion, here is a brief history of celebrity couples who had such strong on-screen chemistry it spilled over into real life, and we're still not over them.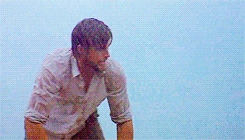 2004: RYAN GOSLING AND RACHEL MCADAMS IN THE NOTEBOOK
Gosling and McAdams famously disliked each other when they first started filming the heart-wrenching film adaptation of the Nicholas Sparks novel in 2003. Somewhere along the line, that changed (*cough* Ryan's beard *cough*) and the two started getting busy in real life. They split up quietly in 2007 and while both famously private actors rarely discuss their personal lives, Gosling alluded to busy schedules having been the cause of the breakup in a 2011 interview. Gosling is now in a long-term relationship with Eva Mendes with whom he has two daughters, while McAdams had her first baby with screenwriter Jeremy Linden in 2018.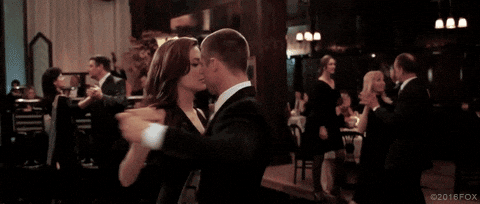 2005: ANGELINA AND BRAD IN MR. & MRS. SMITH
Well, we can probably all remember how this went down—and it was complicated. The short version: Brad was married to Jennifer Aniston when he met Angelina on the set of Mr. and Mrs. Smith. Rumours of infidelity swirled as their on-screen chemistry sizzled. Brad and Jen split; Brad and Angelina got together. They promptly had approximately 32 children and then shocked the world when Angelina filed for divorce in 2016, after 12 years together and two of those married.